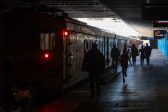 [ad_1]
The travel agency SA (Prasa) said today that it has suspended and issued three special leave, including company secretary Lindadayya Zid and chief information officer Chris of her daughter, for allegations of misconduct.
In recent years, Prasa has been rejected by claims of improper, irregular, corrupt, useless, wasteful expenditure by various employees at all levels of the organization.
These claims are included in various reports produced after an investigation by qualified and experienced professionals, and submitted to the Board of Directors.
In a statement, Praasa said that the board decided to act on these charges and to give their employees involved the right to respond to these claims, so that they would appear before an independent worker and answer the charges.
Tara Neguban, CEO of Prasa Real Estate Solutions Company, was also put on special leave Tommy Mohube, general manager of enterprise risk, was suspended.
"The suspension or raising of a special leave of four managers is to ensure fair procedure based on an innocent principle until proven," said Dr. Nkuzintzichi Sishi, who was appointed Group CEO two weeks ago.
Praisa's chairman, Khanisil Kawayama, said the management's work on this issue was to ensure that allegations of behavior that did not meet the standards that would improve the travel experience of passengers and passengers were handled decisively.
"The scale of the wrong, worthless, and wasteful spending reported by independent professionals shows a disturbing culture of impunity that should come immediately," Kwaima said.
– The African News Agency (ANA)
For more news on your way, download the Citizen 's App for iPhone iOS and Android.
[ad_2]
Source link