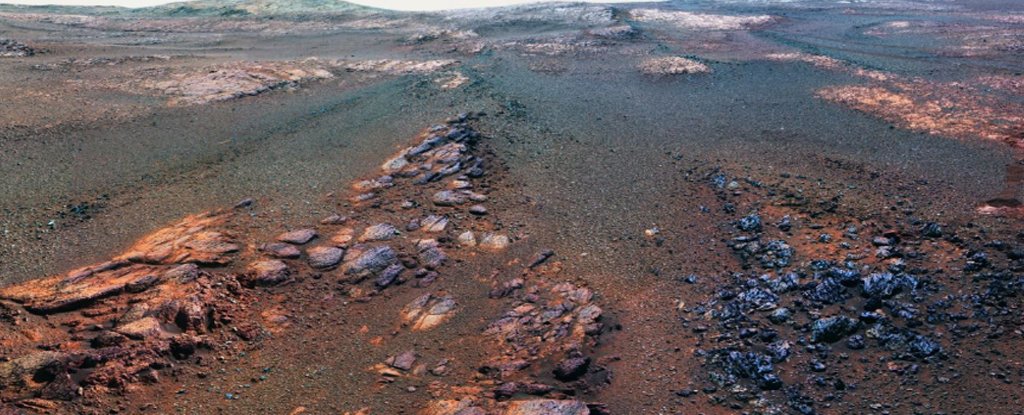 [ad_1]
Before her circles cooled in the shadow of the duststorm of Mars, Opportunity gave one long look at her surroundings and saved it for posterity.
The image represents a poignant conclusion to Rover's mission; A detailed panorama that combines the last tracks of her marathon with a peek into the sands she will never touch.
Forget science for a moment. Just look at it.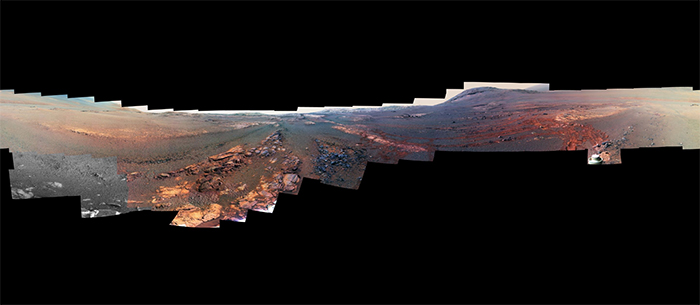 (NASA / JPL-Caltech / Cornell / ASU)
The opportunity was not supposed to run as long as it was. Only 90 days eventually stretched into 15 solid years of unfolding on the sands of Mars, pouring pictures like a tourist who forgot everything about their retirement.
The 360 ​​degree image was taken from the Rover's last resting place in May of last year. For more than 29 days, Opportunity has absorbed its environment in a series of 354 single shots, before distributing them back to NASA for binding.
While most of them provide a colorful view of the landscape, a handful of black and white blocks in the corner were taken with fading energy, denying the opportunity the time it takes to capture the latter of the scene in shades of violet green.
"This latest panorama embodies what has made our opportunity such an incredible exploration and discovery mission," says John Callas of the NASA Jet Propulsion Laboratory in Pasadena, California.
"To the right of the center you can see the language of the Ascension Crater rising from a distance, on the left, the Rover tracks begin their descent beyond the horizon and throw their way into geological features that our scientists wanted to observe closed.
"And in the extreme and left, there is the bottom of the valley of perseverance and the floor of the Endeavor crater, pure and unexplored, waiting for visits by future scholars."
Who – or what – these future scholars will be left to see.
There is no doubt that one day a future spaceman, or a robotic man, will travel with the older rider, and may even find a way to turn him into a repeat performer.
Until then, the picture will come down in history with other famous images of space exploration, serving our eyes in another world.
[ad_2]
Source link