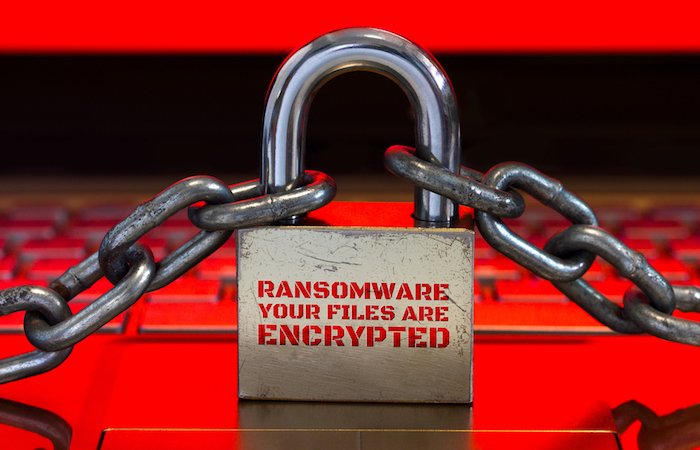 The study shows an increase in the number of cybercriminals directed to businesses, especially small and medium enterprises (SME) whose limited resources make them attractive victims.
Small and medium-sized companies are targeted: 235% more attacks in companies in this sector
Above all, companies in Germany are struggling with more trojans – a 502 percent increase in the detection rate compared to the previous year
Germany is ranked 14th in worldwide malware
Malwarebytes presents the results of its first quarter 2019 tactics and tactics of Cybercrime, and the results are based on the company's unique analysis capabilities. Accordingly, in the first quarter there was a significant increase in enterprise-focused Ransomware (195%), a growing threat from Trojans, and a sharp drop in the threat of crypto training.
Malwarebytes Malware and Threat Assessment's recent report shows an increase in the number of targeted criminals targeted at businesses, especially small and medium-sized enterprises (SMEs) whose limited resources make them attractive victims Disconnecting domestic users as targets shows cybercriminals focused on what they see as valuable targets Which could bring more user data than people, adding a new analysis section to the Malwarebytes report describing consumer habits and beliefs about their data within the evolving landscape of threats, as well as the negligence of companies protecting the data.
If you take a regional look at Germany, you can see that German companies were forced to fight especially with Trojans (among other things, in Imot). With a 10% increase over the fourth quarter of 2018 and even 502% year on year, Trojan Malware is the only leader in the analysis. On the consumer side, the numbers in Germany are falling. The first position of known malware is advertising, but has been declining steadily since the same period last year.
"Consumers can really take time out, considering that home-targeted malware has dropped nearly 40 percent, but it will be too short," said Adam Kujawa, director of Malwarebytes Labs. "User data is much easier in large volumes and theft of such cases has grown at 235 And cybercriminals become more skilled in their defenses, adding more value to their attacks with sophisticated Trojans, adware, and versware. "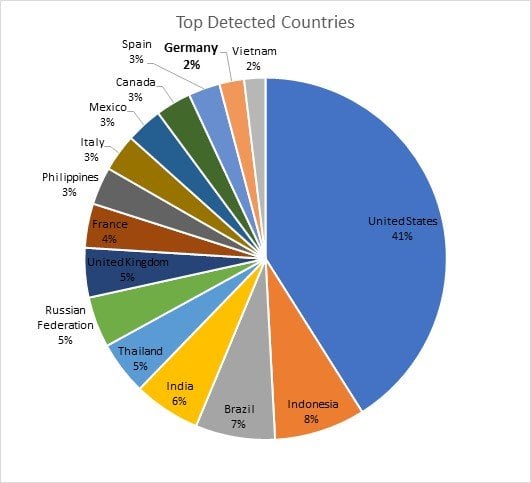 Image: Countries with most malware (Copyright: Malwarebytes)
The most important results of the report include:
Businesses are the main goal. Overall, more and more threats to businesses are being recognized. Compared to the previous quarter of 2018, they grew by about 7%, while the number of private users dropped by almost 40%. Compared to the first quarter of 2018, the company side saw 235 percent more threats.
Ransomware is back to business. Ransomware has grown rapidly in business targets with a 195 percent increase in detection rates between the fourth quarter of 2018 and the first quarter of 2019. Compared to last year, ransomware discoveries in the business environment have increased more than 500 percent, largely due to massive attack on US organizations by Troldesh ransomware at the beginning of the first quarter.
Amot continues to focus on business. Emot almost turned from end users to focus on business objectives. Trojan detection (the sub-category of Emotet malware) in the company's endpoints has increased by more than 200% since the fourth quarter of 2018, an increase of nearly 650% over the previous year.
Cryptomining attacks on consumers are actually no longer available. After the fall of mining common by CoinHive in March, the density of end users decreased by 79% over the same period last year.
Apple mobile products are increasingly struggling with advertising. Mac malware grew by more than 60% between the fourth quarter of 2018 and the first quarter of 2019, with more than 200% in a row.
Profuse authors have developed some eye-catching techniques. In the first quarter, a new flash player called Zero-Day was discovered and quickly implemented into popular exploit kits such as Underminer and EK Fallout, as well as a new exploit scheme called Spelevor.
The United States leads the global threat with 47%Followed by Indonesia with nine percent and Brazil with eight percent. Germany ranks 14th behind Canada and Spain with about 2%.
More info:
You can download the full report here.
www.malwarebytes.com
Source link