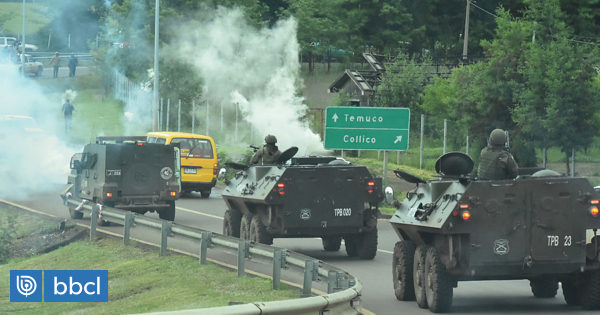 The school transport driver, from acronym F.R.S.S, was one of the witnesses of the attack suffered by a group of teachers from Santa Rosa School in Arsilla, An area of ​​La Araucanía, which was later unleashed in the murder of Camilo Catrillanca.
The same one is the one who on November 14 condemned the robbery to Carabineros after seeing all the facts via line 133 at around 4 pm.
Now, according to La Tercera, the version is known after a month of series of revelations.
F.R.S.S is the driver of the school vehicle of the same Santa Rosa school which the attacked teachers belong to. According to the man, the day of events was special.
"That day, the van showed a brake failure when he was looking for children in the communities, so that day there were no classes at the school where the teachers who belonged to him belonged to Arsilla to find a teacher, the only one in the district, we are back"Recalls the driver, according to the media.
"I waited for the mechanic who came from Tamuko, but the director told me to go out and meet the teacher on the way, so I took advantage of the fact that they were going to follow them.
"They went to their homes, one to Arsilla, another to Victoria and one to Calipoli. When they turned on the mountain on the road, because the road was very bad, the smaller cars, as they are lower, milled on the hill. Then, in those parts behind the hill, they caught them"According to the newspaper.
In this sense, the driver noted that the cars they used were: a Chevrolet sail, a large wall (not a model) and a Nissan.
"They were there and aggressively throw them, them and the kids. The cars held them locked forward in branches and barbed wire. When I got to the place I was trying to go to help them, I went down, but it was clear that I saw the aggression of the people who walked with axes in their hands and with those guns cut off. I tried to go there, they shouted at me and took the egg away (to your car), &, And when they told me that for the second time, I turned and pulled it aside, and they started, "said the driver, adding that at least he had seen two men in a hood.
As for the questions of the political and national public regarding the possibility of a possible meeting in this attack, the driver is empathetic by saying no.
"If I think it was a montage, no, I work there, I know how it is … There are a lot of people who think so stupid and do not even know what happened … I saw the teachers who were hurt and the children crying. Tell me otherwise ", said.
"Now the Carabineros have moved their hands and done bad things," he concluded.