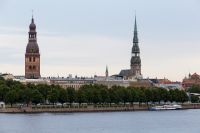 [ad_1]
Following various festive events, on Thursday, November 16, almost all the central streets of the center of Riga will enter the traffic on Friday, November 16, representatives of the Traffic Department of the Riga City Council informed the LETA agency.
Between November 17 and November 19, traffic will be closed on the embankment of November 11 from Akmens Bridge to Muitas Street and parallel to the port of November 11, from the Polish gate to Jauniela. Weekend traffic will be closed or restricted to Polish gardens and bishops, Eksporta and Elizabetes Street.
On the holiday of November 18 from 11 am to 5 pm will close the traffic section of the General Radziaa embankment and the direction of the bridge bridge to Turgeeeva Street, but from noon. From 12:30 to noon 24.00 – on the stage of Aspazija Boulevard from Krišjāña Barona Street to Kalku Street and Zigfrīda Anas Meierovica Boulevard. From 16 November – 21, traffic and pedestrian traffic will also be closed on AB Dam.
At the same time on November 18, most of the day traffic will be closed on Avenue Raina from Krisjana Valdemara Street to Krisjana Street Barona, Raimersa Street, Brivibas Boulevard segment from Merkela Street to Raina Avenue, as well as Injenieru Street. Temporary restrictions on this day will also be on Rains and Aspazija Boulevard, Krišjāña Valdemāra Street, Citadeles Street, Kalpaka Boulevard and Toruu Street.
From midday from 20.30-22.30, it will close the traffic on the Akmens Bridge, some sections of Victory Boulevard, as well as Mukusalas, Akmeuu, Kuuu, Gogol, Grecinieku and Jan 13 Streets.
Traffic on this day will be closed at all times on all streets where the parade and the torch will be held. In addition, the limited traffic will be found in almost all the old killing streets, as well as restrictions on heavy traffic will be set on the street of Exporta Street from Nzes Street to Muitas Street and Krasta Street from Salu Bridge to 13th January Street.
[ad_2]
Source link