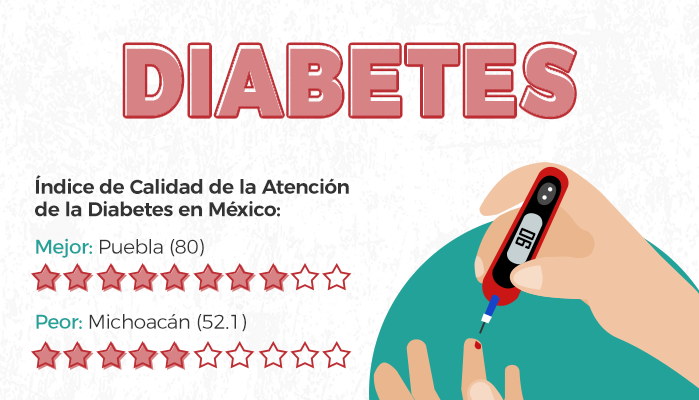 With a score of 52.1, Michoacán is in the last place on the national level for the health care attention of diabetics, preceded by Oaxaca (53.2), Durango (53.3) and Yucatan (59.3).
This was revealed by the quality index of diabetes treatment in Mexico (ICAD), which was cut as of October 31 this year when three aspects were taken into account: that the patient regularly go to his meetings, the quality of care in the medical consultation and if the situation is controlled.
Puebla (80.5), Nuevo León (79.5), Guanajuato (79.2), Coahuila (77.5), Baja California Sur (77.3), Nayarit (74.4), Hidalgo (73.9), Veracruz City (70.5), are the 10 countries in the country where they achieved the best accreditation, according to the ICAD.
It was in November 2016, when the Ministry of Health (SSA) issued the Emergency Emergency Statement for Diabetes and Obesity, which states begin with the operation of the ICAD as part of the actions taken to improve patient care.
The Ministry of Health in Mechucan (SSM) reported that there are currently 45,000 586 people living with diabetes, of which 72.4% are women and the remaining 27.6% are men. However, it indicates only 43.4 percent of all have control over the disease.
What causes do they originate?
Thalía Schadai Servín Rodríguez, director of the Elderly Adults' Health Program, explained that diabetes is associated with unhealthy lifestyles, obesity, an inactive lifestyle, and a diet rich in sugars and fats, as well as genetic predisposition.
"This chronic degenerative disease occurs when the pancreas does not produce enough insulin or when the body does not use insulin efficiently," he said.
In the long term create nerve damage, diabetic retinopathy, blindness, diabetic foot, excision, kidney damage, chronic renal failure, difficulty in controlling blood pressure and cholesterol level, and erectile dysfunction, among others.
Symptoms and Prevention
Lack of energy, blurred vision, frequent weight loss and thirst are the main symptoms of this condition.
However, this can be avoided with healthy lifestyle habits such as:
1.- There is a high fiber diet
2. Moderate the intake of foods with high caloric content and carbohydrates
3. Elizer Regular physical activity
4. Maintain a healthy weight (know the ideal weight, consult your doctor or nutritionist)
5. Moderate alcohol consumption
6. Reduce foods rich in saturated fats and trans fats
7. Avoid sweet drinks and soft drinks
8. No smoking
9. Get up a few minutes after a long period of sitting
10.- Go periodically to the doctor to perform blood glucose tests