[ad_1]
De Grapesap coach, Henk de Jong, did not understand much of the big disappointment among his players, after a 1-1 draw on Sunday at SC Cambuur in conservation play plays. Coach is positive for Wednesday's return.
De Graafschap played the whole second half with one other man and even received a penalty in the 65th minute. The deployment of Fabian Serrance was interrupted by the goalkeeper Xavier Moss and left her at 1-1 in Leverden.
"We were too stuck in the missing punishment," de Gogh later concluded Sports FOX. "The players came in disappointed and I thought we were very sad for our supporters, these people came all the way from Duetincom and were in a traffic jam to cheer us up."
"You do not have to stand out like an idiot, but you can project something else if you tie 1-1 in Cambor, we were a little victim and you do not want it. We have to live. "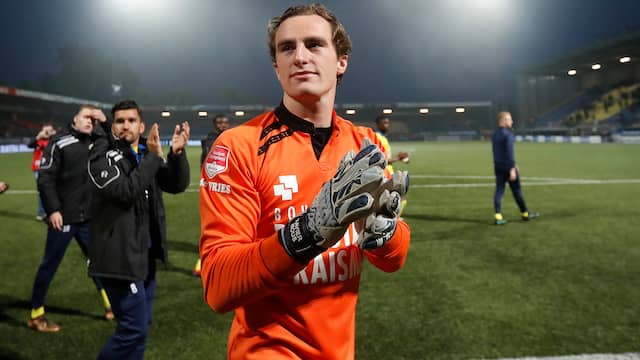 The goalkeeper Xavier Moss was crowned the hero of Cambor. (Photo: Photo Pro)
De Jong is pleased with the starting position
The final result in Leauwarden has been achieved by the goals of Furdjel Narsingh (De Graafschap) and Robin Mawson (Cambor) in a period of three minutes. De Jong admitted that his team had struggled against Cambor, but did not find it a big surprise.
"We finished the Eredivisie season in the penultimate place and created opportunities throughout the year and especially in the exchange, so we do not have to think that we are playing the opponents of the field at once," stressed the coach, the Cambor Group.
"If it was a penalty, maybe we would win 1-4, but I'm happy with this starting position, we can all be disappointed, but it's unrealistic, I heard that Excelsior also lost and it turns out but again how difficult it is."
The return between De Grafshap and Cambor should take place on Wednesday evening in Duetincom. Excelsior, who, just like de Graafschap, fought the decline, lost the first game against RKC Waalwijk 2-1 and also plays the return for its public on Wednesday.
[ad_2]
Source link