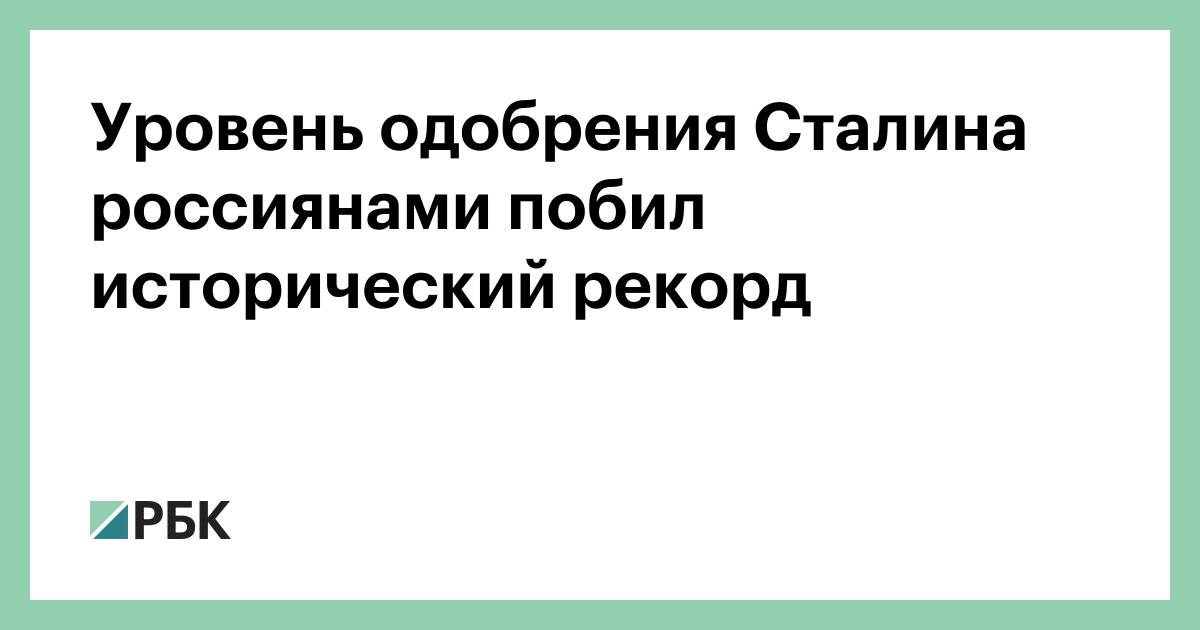 [ad_1]
The same tendencies are evident in the question of the recognition of Stalin's right to statehood. According to the results of a survey last March, his role is considered positive by 70% of Russians, and this is a record for all polls. Only 19% regard its role in the life of the state negatively.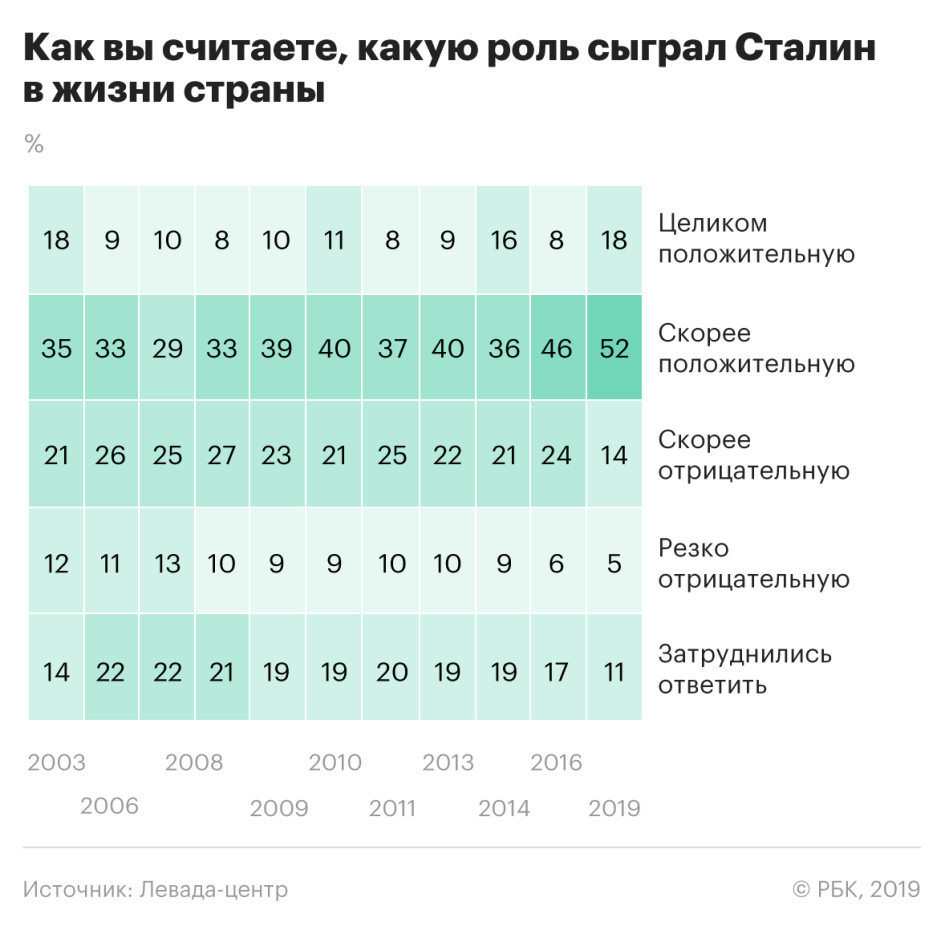 A positive attitude towards the Soviet leader and his role in the history of the country were determined at the level of a new social norm, Pipia believes. "If before the population refrained from expressing concrete or hard-to-answer assessments, now positive views of the leader are expressed or more supported," says the sociologist. At the same time, the level of positive attitude towards Stalin is higher than that of Nave, Gorbachev, Yeltsin, and others.
Positive feelings mainly Stalin's assessments of his role in the life of the state are experienced not only by supporters of the Communist Party of the Russian Federation, but also those who voted in the presidential election for Vladimir Putin or Vladimir Zirinovsky. In all age groups, the proportion of respondents with a positive attitude controls the rate of respondents with negative evaluations. Although the youngest respondents (ages 18-24) are often indifferent to the Soviet leader. In the fall of 2018, the VTsIOM survey showed that almost half (47%) of respondents aged 18-24 had never heard of political repression during the reign of Stalin.

Lonti Bazov, a senior researcher at the Institute of Sociology of the Russian Academy of Sciences, links the Russians' recorded love of Stalin with the politicization and fragmentation of society, leading to more radical estimates of history. In his opinion, this process is supported by the state media, which constitute a positive image of the Soviet leader.
"Stalin is perceived as a symbol of justice and as an alternative to the current government, which is measured as unfair, cruel and does not care for people, it is a pure mythological image of Stalin, far away Very real historical figure. "
According to Merkaz alone, support for opinions on "the unjustified human sacrifices suffered by the Soviet people during the Stalin era" (in fact, the recognition of Stalin's crimes, Pipia explains) is gradually decreasing from 49% in April 2017 to 45% in March this year. In 2008, 60% of respondents thought so.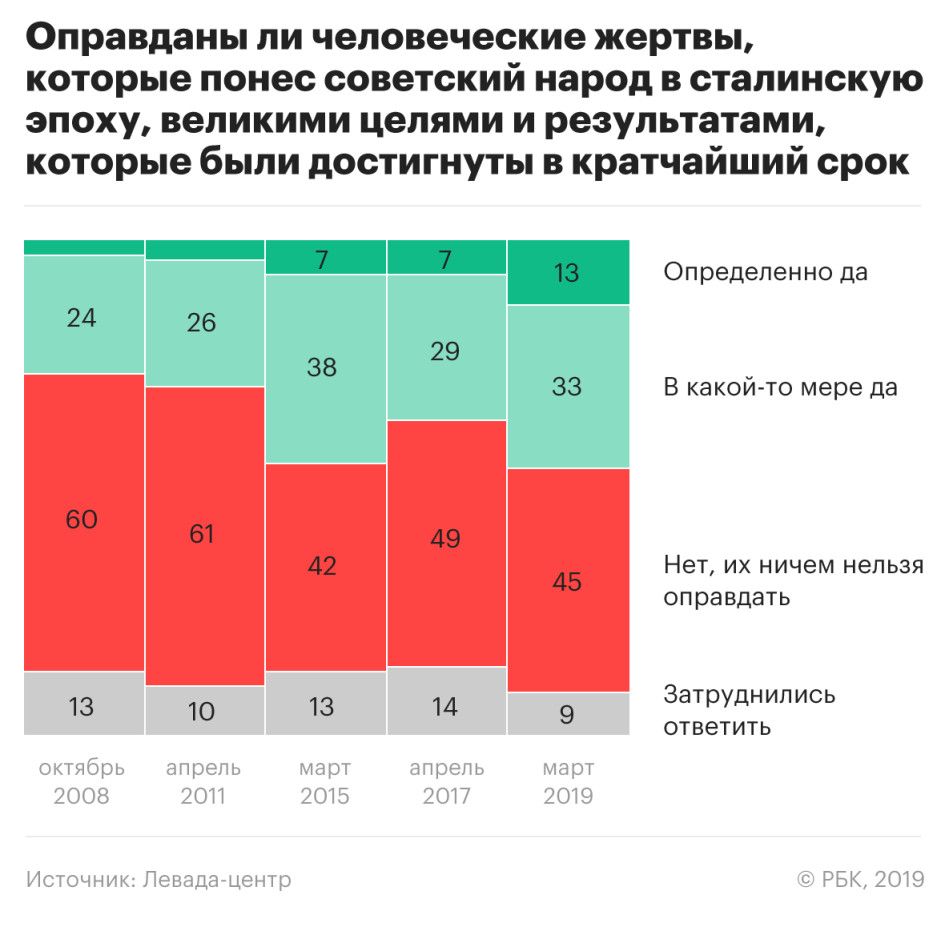 "Stalin was perceived as a king who cut the heads of the hated Boiers, and only a few innocent people became victims," ​​explains Leonti Bazov.
A survey conducted last year by the Center alone shows that the number of Russians who believe that the Stalinist leadership is to blame for the large number of fatalities in the Soviet Union during the Great Patriotic War was four times lower than in 1991. In June 2018, VTsIOM introduced a list of figures from the early twentieth century The Russians, the first three places were taken by Nicholas II (54%), Stalin (51%) and Lenin (49%).
[ad_2]
Source link