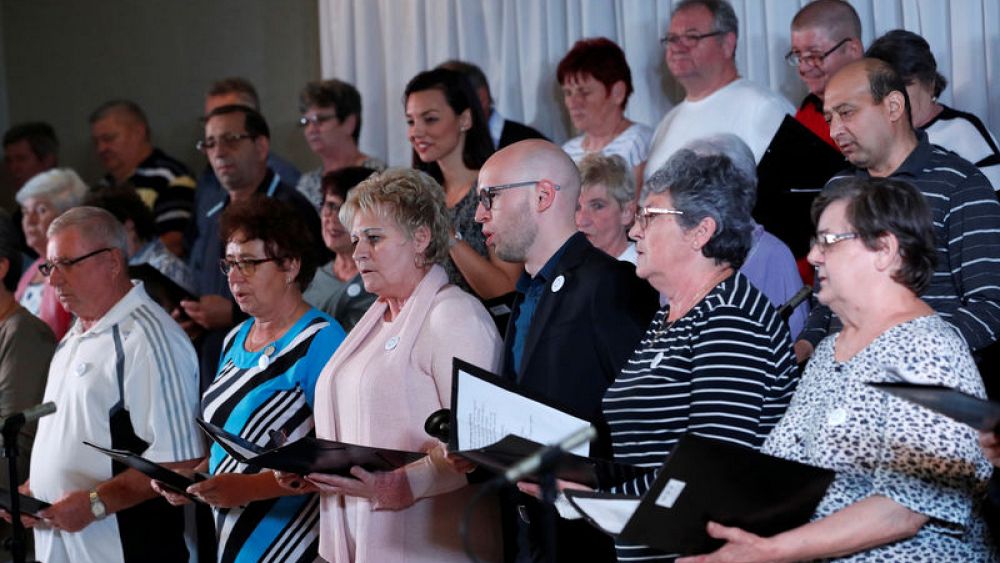 [ad_1]
– A Hungarian doctor prescribed for her patients a new form of physical and spiritual therapy – sing-along as part of a choir.
The "Breath for the Soul" choir, which was established this spring, gave a second performance on Thursday in the Budapest hotel's soccer room.
Guy
Her friends, many of whom suffer from chronic obstructive pulmonary disease (COPD) and are being shown from hospitals across Hungary, say the singing has improved their quality of life.
"I never thought in my life that I would ever sing," said Maria Ernie, 74, who has been suffering from severe asthma for a decade.
"After the gray days, there is a place where I feel good … After singing I noticed that I could also breathe more easily."
Many lung patients are being delayed in their daily lives and get increasingly isolated. Singing in the choir brought them new friends.
Dr. Catalin Verdi raised the idea of ​​setting up the choir after learning that similar patients in other countries had found useful poetry.
She said concert shows gave a new sense of purpose to people who have to deal with the thought that their symptoms can worsen with the progression of the disease.
"We increased the stakes for them, to change their own image," Vardi said.
"With this community … they can show their talent to the world and the fact that they work together for it, is a very positive feeling for them."
The songs were chosen to demonstrate the abilities of the patients by conductor Georgi Philippe, who said that the concert was a huge challenge for people who had never been on stage.
"We choose songs that allow patients to make longer lines, harder melodies, and they can develop through this system," he said.
(A report by Krishtina Penny and Krishtina Thanh, edited by John Stonstreet)
[ad_2]
Source link