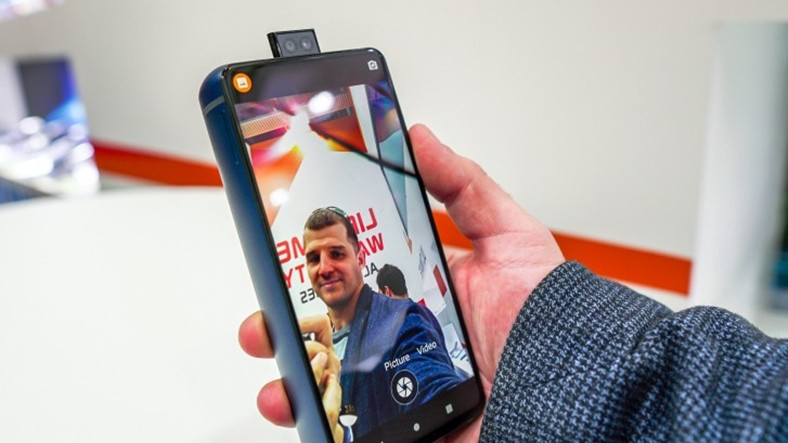 [ad_1]
Avenir Telecom was unable to find any investment for Energetic Power Max 18K Pop, powered powerbank battery, and rejected the project.
The World Mobile Congress (MWC) 2019 hosted various innovative smart phones. Energ 's Smart Phone displays quite interesting during the event. Energies Max Power 18K Pop was a long-term, long-term lifestyles for elegance and refinement. While the company did not announce the price or date of release of the device, it began to raise funds for development and production.
The producer, Avenir Telecom, focused on Energizer Max Power 18K Pop for $ 1.2 million. However, the company's total funding from Energizer Max Power 18K Pop Future Investors & Was only $ 15,000. Therefore, the company's smart phone project with a battery of 18,000 mAh, full-screen dual-fold dual front camera is postponed for a little longer.
In fact, Power Max Power 18K Pop has offered a completely borderless display as today's popular phones, and some advanced features, such as a dual-facing camera, are not found on many smartphones. The problem is that the handset is quite thicker than a standard smart phone. Avenir Telecom stated that they will continue to work on the powerbank to build a battery capable of smartphones, but to adapt it to more accepted devices.
Kaynak : https://www.gsmarena.com/energizer_max_power_18k_pop_funding_campaign_fails_spectacularly-news-36825.php
($ Function) {
// facebook window.fbAsyncInit = function () { fb.init ({ appID: & # 39; 1037724072951294 & # 39 ;, xfbml: True, Version: & # 39; v2.5 & # 39; }); };
(Function (d, s, id) { var js, fjs = d.getElementsByTagName (s)[0]; If (d.getElementById (id)) {Return;} js = d.createElement (s); js.id = id; js.src = "http://connect.facebook.net/en_US/sdk.js"; fjs.parentNode.insertBefore (js, fjs); } (Document, & # 39; script & # 39 ;, & nbsp; facebook-jssdk & # 39;)));
$ (& # 39; body & # 39;). Ten ({ click: function () { . Save button If fb.xfbml.p (); } }, & # 39; .facebook-save & # 39;);
// Part of the Czech Republic If ($ (& # 39; Sticky Content & # 39;) Length> 0) { If ($ (window) .width ()> 768 = {{ $ (window). on (& # 39; scroll & # 39 ;, function () { There is scrollTop = $ (this). ScrollTop (); $ (& # 39; article & # 39;) each (function () { If (scrollTop> = ($ (this) .find (& # 39; content-body & # 39;) offset (). $ (This) .find (& # 39; sticky content. & # 39;) AddClass (& # 39; sticky & # 39;) .; ($) ($ (this .find (& # 39; content content-body & # 39;) .find (& # 39; content-sticky & $ (This) .find (& # 39; sticky content. & # 39;) RemoveClass (& # 39; sticky & # 39;) .; $ (this) .find (& # 39; sticky content & # 39;) css (& # 39; bottom & # 39; & # 39; 0px & # 39; & # 39; top & # 39;; & # 39; auto & # 39;}); } else $ (This) .find (& # 39; Sticky Content & # 39;). AddClass (& # 39; sticky & # 39;). Css ({ & # 39; Bottom & # 39 ;: & # 39; Primary & # 39; & # 39; top & # 39 ;: & # 39; 76px & # 39; }); } } else $ (this) .find (& # 39; Sticky Content & # 39;). RemoveClass (& # 39; sticky & # 39;) css (& # 39; & # 39; bottom & # 39; & # 39; auto & # 39;, & # 39; top & # 39; & # 39; ; 0 & # 39;}); } }); }); } }
// Click $ (& # 39; body & # 39;). Ten ({ click: function () { var $ this = $ (this), dataShareType = $ this.attr (& # 39; data-share-type & # 39;), dataType = $ this.attr (& # 39; data-type & # 39;), dataId = $ this.attr (& # 39; data-id & # 39;), dataPostUrl = $ this.attr (& # 39; data-post-url & # 39;), dataTitle = $ this.attr (& # 39; data-title & # 39;), dataSef = $ this.attr (& # 39; data-sef & # 39;);
switch (dataShareType) { itted & # 39; facebook & # 39 ;: fb.u's { Method: & # 39; Share & # 39; href: dataSef, }, Function (response) { if (response &&! response.error_message) { updatehit (); } });
to break;
Case & # 39; twitter & # 39 ;: shareWindow (& # 39; https: //twitter.com/intent/tweet? via = webtekno & text = & # 39; + encodeURIComponent (dataTitle) + & # 39;% E2% 96% B6 & # 39; + encodeURIComponent (dataSef )); updatehit (); to break;
Case & # 39; gplus & # 39 ;: shareWindow (& # 39; https: //plus.google.com/share? url = & # 39; + encodeURIComponent (dataSef)); updatehit (); to break;
Case & # 39; Mail & # 39 ;: window.location.href = & mailto:? Subject = & # 39; + encodeURIComponent (dataTitle) + & # 39; & body = & # 39; + encodeURIComponent (dataSef); // updatehit (); to break;
Case & # 39; whatsapp & # 39 ;: window.itle.href = & # 39; whatsapp: // send? text = & # 39; + encodeURIComponent (dataTitle) + & # 39;% E2% 96% B6 & # 39; + encodeURIComponent (dataSef); updatehit (); to break; }
function shareWindow (url) { window.open (url, "_blank", "toolbar = yes, scroll = yes, resizable = yes, top = 500, left = 500, width = 400, height = 400"); }
Update postHay () $ .Ajax ({ Type: "POST", url: dataPostUrl, Data: {contentId: dataId, contentType: dataType, shareType: dataShareType}, Success: Function (data) {
If ($ (& # 39; Video-showcase & # 39;) Length> 0) { var $ container = $ (& # 39; video-showcase & # 39;); } else if ($ (& # 39; article[data-id="' + dataId + '"]& # 39;). length> 0) { var $ container = $ (& # 39; article[data-id="' + dataId + '"]"); } Unless ($ (& # 39; wt-share-item[data-id="' + dataId + '"]& # 39;). length> 0) { var $ container = $ (& # 39; wt-share-item[data-id="' + dataId + '"]"); } else $ container = null; }
// var $ container = dataType == & # 39; video & # 39 ;? $ (& # 39; -show-showcase & # 39;): $ (& # 39; article[data-id="' + dataId + '"]");
If ($ container = = null && $ container.length> 0) { var $ badged = $ container.find (& # 39 ;. wt-share-badge - & # 39; + dataShareType);
Find $ headerCount = $ (& # 39; content-header & # 39;). find (& # 39; .wt-share-count & # 39;), $ container = $ container.find (& # 39; .wt-share-count & # 39;), value = parseInt ($ containerCount.html ()) + 1;
$ container.data (& # 39; share & # 39; value); //$containercount.html(valu a);
If ($ headerCount.length> 0) { //$headercount.html(valu a); }
If ($ badged.length> 0 && (dataShareType == & nbsp; facebook & # 39; || dataShareType == & # 39; twitter & # 39;)) { If ($ badged.hasClass (& Visible & # 39;)) { //$badged.html(dat a); } else //$badged.addclass('is-visible').html(dat a); } } }
} }); } } }, & # 39; .wt-share-button & # 39;) }); [ad_2]
Source link