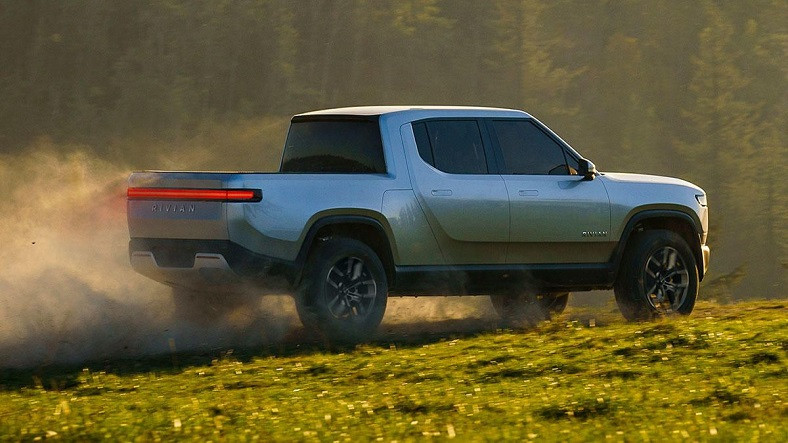 [ad_1]
The truck world is changing. Both economical and fun, electric vehicles will soon be on the roads.
The company, based in the United States, has introduced its first electric pickup, with the model known as the R1T, the company aims to prove to drivers of multi-purpose vehicles such as collecting, collecting, etc. That electric vehicles are much better than gasoline and diesel powered Vehicles featured in 2018 Los Angeles Motor Motor, the R1T offers drivers a range of up to 400 miles (about 643 kilometers) and a standard all – wheel drive.
This vehicle, which has a completely different look among its predecessors, has a massive bumper of traditional turntables, its full lines, but with its modern touches and eye-catching LED lighting, it mixes what is expected from a turntable and electric vehicle.
The company is equipped with high-tech SUVs, which it describes as "Alcatel Automotive Adventures," but has not neglected to offer some entertainment to the driver in the cabin. The R1T has an angle of access to 34 degrees, a 30 degree angle of disconnection and a 26 degree angle of approach ramp, while it has the ability to easily reach 45 lanes prone.
When we see this in the land vehicle on the city roads, lighting, console design, car entertainment system, which seems to come from the future, is put into a category that we can easily get. In addition to this, a large loading segment from the nature of the pickup was added with an interesting and creative idea of ​​boot loading with a capacity of 330 liters.
All of this functionality and surface capability are also offered with ambitious performance. The car's 0-100 km acceleration is only 3 seconds, while the huge it seems huge proves that it can reach the performance value that many cars in the market can not reach.The biggest opponent of his, Tesla's SUV, and Ford's hybrid F-150 Against these values ​​come out with them, showing that they will not return at all.
The Riabian R1T comes into the market with a tool that displays the design that can be offered to users without sacrificing performance without sacrificing performance. We hope that this impressive off-road vehicle, which will be sold mainly in the United States by 2020, will soon be seen in our country's streets.
Kaynak : https://www.slashgear.com/rivian-r1t-electric-pickup-truck-price-specifications-capabilities-26555184/
($ Function) {
// facebook window.fbAsyncInit = function () { fb.init ({ appID: & # 39; 1037724072951294 & # 39 ;, xfbml: True, Version: & # 39; v2.5 & # 39; }); };
(Function (d, s, id) { var js, fjs = d.getElementsByTagName (s)[0]; If (d.getElementById (id)) {Return;} js = d.createElement (s); js.id = id; js.src = "http://connect.facebook.net/en_US/sdk.js"; fjs.parentNode.insertBefore (js, fjs); } (Document, & # 39; script & # 39 ;, & nbsp; facebook-jssdk & # 39;)));
$ (& # 39; body & # 39;). Ten ({ click: function () { . Keep the button If fb.xfbml.p (); } }, & # 39; .facebook-save & # 39;);
// Part of the Czech Republic If ($ (& # 39; Sticky Content & # 39;) Length> 0) { If ($ (window) .width ()> 768 = {{ $ (window). on (& # 39; scroll & # 39 ;, function () { There is scrollTop = $ (this). ScrollTop (); $ (& # 39; article & # 39;) each (function () { If (scrollTop> = ($ (this) .find (& # 39; content-body & # 39;) offset (). $ (This) .find (& # 39; sticky content. & # 39;) AddClass (& # 39; sticky & # 39;) .; ($) ($ (this .find (& # 39; content content-body & # 39;). (& # 39; Sticky & # 39;) Height () + 92))) { $ (This) .find (& # 39; sticky content. & # 39;) RemoveClass (& # 39; sticky & # 39;) .; $ (this) .find (& # 39; content-sticky & # 39;) css (& # 39; & # 39; bottom & # 39; & # 39; 0px & # 39; & # 39; top & # 39;; & # 39; auto & # 39;}); } else $ (This) .find (& # 39; Sticky Content & # 39;). AddClass (& # 39; Sticky & # 39;). Css ({ & # 39; Bottom & # 39 ;: & # 39; Primary & # 39; & # 39; top & # 39 ;: & # 39; 76px & # 39; }); } } else $ (this) .find (& # 39; Sticky Content & # 39;). RemoveClass (& # 39; sticky & # 39;) css (& # 39; & # 39; bottom & # 39; & # 39; auto & # 39;, & # 39; top & # 39; & # 39; ; 0 & # 39;}); } }); }); } }
// share Click $ (& # 39; body & # 39;). Ten ({ click: function () { var $ this = $ (this), dataShareType = $ this.attr (& # 39; data-share-type & # 39;), dataType = $ this.attr (& # 39; data-type & # 39;), dataId = $ this.attr (& # 39; data-id & # 39;), dataPostUrl = $ this.attr (& # 39; data-post-url & # 39;), dataTitle = $ this.attr (& # 39; data-title & # 39;), dataSef = $ this.attr (& # 39; data-sef & # 39;);
switch (dataShareType) { & # 39; facebook & # 39; fb.u's { Method: & # 39; Share & # 39; href: dataSef, }, Function (response) { if (response &&! response.error_message) { updatehit (); } });
to break;
Case & # 39; twitter & # 39 ;: shareWindow (& # 39; https: //twitter.com/intent/tweet? via = webtekno & text = & # 39; + encodeURIComponent (dataTitle) + & # 39;% E2 96% B6 & # encodeURIComponent (dataSef) ); updatehit (); to break;
Case & # 39; gplus & # 39 ;: shareWindow (& # 39; https: //plus.google.com/share? url = & # 39; + encodeURIComponent (dataSef)); updatehit (); to break;
Case & # 39; Mail & # 39 ;: window.location.href = & mailto:? Subject = & # 39; + encodeURIComponent (dataTitle) + & # 39; & body = & # 39; + encodeURIComponent (dataSef); // updatehit (); to break;
Case & # 39; whatsapp & # 39 ;: window.itle.href = & # 39; whatsapp: // send? text = & # 39; + encodeURIComponent (dataTitle) + & # 39;% E2% 96% B6 & # 39; + encodeURIComponent (dataSef); updatehit (); to break; }
function shareWindow (url) { window.open (url, "_blank", "toolbar = yes, scroll = yes, resizable = yes, top = 500, left = 500, width = 400, height = 400"); }
Update postayHit () $ .Ajax ({ Type: "POST", url: dataPostUrl, Data: {contentId: dataId, contentType: dataType, shareType: dataShareType}, Success: Function (data) {
If ($ (& # 39; Video-Show & # 39;) Length> 0) { var $ container = $ (& # 39; video-showcase & # 39;); } else if ($ (& # 39; article[data-id="' + dataId + '"]& # 39;). length> 0) { var $ container = $ (& # 39; article[data-id="' + dataId + '"]"); } Otherwise if ($ (& # 39; wt-share-item[data-id="' + dataId + '"]& # 39;). length> 0) { var $ container = $ (& # 39; wt-share-item[data-id="' + dataId + '"]"); } else $ container = null; }
// var $ container = dataType == & # 39; video & # 39 ;? $ (& # 39; -show-showcase & # 39;): $ (& # 39; article[data-id="' + dataId + '"]");
If ($ container = = null && $ container.length> 0) { var $ badged = $ container.find (& # 39 ;. wt-share-badge - & # 39; + dataShareType);
Find $ headerCount = $ (& # 39; content-header & # 39;). find (& # 39; .wt-share-count & # 39;), $ container = $ container.find (& # 39; .wt-share-count & # 39;), value = parseInt ($ containerCount.html ()) + 1;
$ container.data (& # 39; share & # 39; value); //$containercount.html(valu a);
If ($ headerCount.length> 0) { //$headercount.html(valu a); }
If ($ badged.length> 0 && (dataShareType == & nbsp; facebook & # 39; || dataShareType == & # 39; twitter & # 39;)) { If ($ badged.hasClass (& Visible & # 39;)) { //$badged.html(dat a); } else //$badged.addclass('is-visible').html(dat a); } } }
} }); } } }, & # 39; .wt-share-button & # 39;) }); [ad_2]
Source link